Three words to describe my new coat.
I've been looking for a coat for a while now, seeing as in December I'm lucky enough to be going to New York with my uni course. So I need a really good warm coat, seeing as it will probably be freeeeeeezing!
I already have my faux fur coat, but it's not actually as warm as you would think it is, it lets in all the cold wind, which is already too cold in England winter let alone New York.
I looked in so many shops, from New Look to Zara and Topshop, to find only one coat which was nice but wasn't very 'me'. Even though it was about £20 less I know I wouldn't love to wear it.
When Thursday came around I knew it had to be the day I purchased a coat, seeing as West Quay Southampton, had a student shop in, where you could get up to 30% off of brands and shops!
This included River Island, thankfully the 20% was on all day so I wouldn't need to que in the evening! I found a coat which was really nice, but I wasn't 100% sure. I bought it anyway, so I knew I had a coat.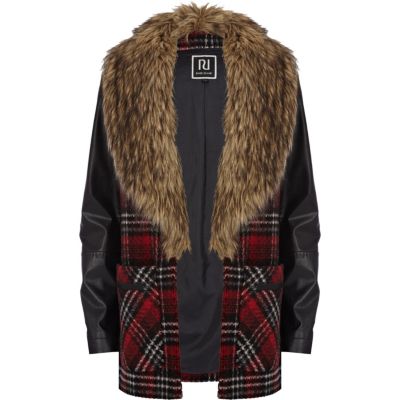 £85 River Island
It was the tartan version of this one, which I wasn't too sure on, but when I returned home I found they did a similar version in grey, for the same price, which was right up my street!
I then found they had it in the right size in the Winchester branch which is only a short car journey away, I knew I had to have it so I jumped in my car and bumbled off to Winchester. After seeing it in real life, not on a website I knew it was the perfect coat. So I quickly ran over to the counter and swapped it over!
I love this coat, it has a thick lining, which will be great in the winter, it has pleather sleeves so it is bang on trend and makes this coat look very smart. The low V on the front covered in faux fur looks so glamorous, and I can wear a nice scarf with it if my chest gets cold.
Here's me in the coat, I think it fits me well seeing as I am on the short side. It stops just under my bum making my legs look like a usual size, not stumpy!
Has anyone else been trying to look for their winter coat?
x